'Fast Lane' can be described as a hybrid manufacturing method that reconciles the customization features provided by the 'Made-to-Order' program, and the rapidity of the 'Ready-to-Wear' in-stock purchases.
Blazing Fast Production
'Fast Lane' orders can be produced in just 1 week as we make partially-produced stock available in our warehouse.
Although 'Fast Lane' shoes are partially pre-produced and stocked in our warehouse, each order is hand-painted and finished after the purchase, strictly following your specifications. We offer 14 styles in the Fast Lane.
Goodyear Welted. Same Quality
'Fast Lane' shoes are handcrafted using Goodyear Welt construction. We use the same high-grade materials and processes as any other standard Goodyear Welted MTO order. That includes the same raw leathers, hand painting processes, sole units, etc.
Customization Options
'Fast Lane' shoe has limited customization options, compared to our standard MTO (SHOE STUDIO) feature. However, you can still customize a fair number of shoe pieces including the upper, outsole, and shoelaces. Additionally, customer initials can be engraved on the heel.
Hand Painted Patina Workshop
All 'Fast Lane' orders are hand-painted at our Patina Workshop. You can order any plain colors (painted calf) as well as any of our hand-painted patinas (Regular, Papiro, Marble, Camo), plus the new «Reverse» patina.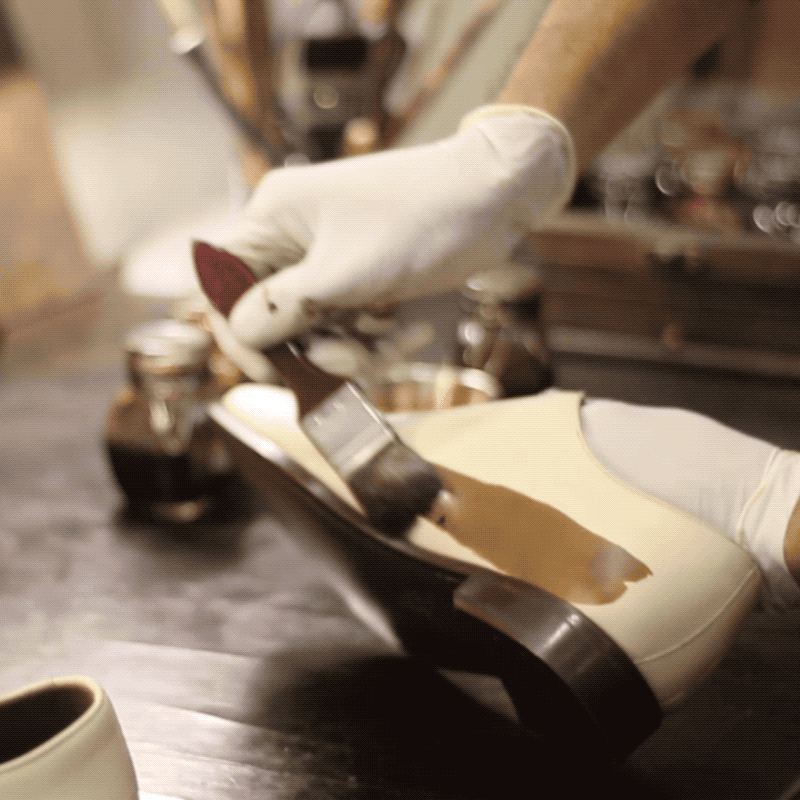 Exclusive Patinas
Only available on 'Fast Lane' orders, the new hand-painted «Reverse Patina» gracefully mixes two color tones to create an outstanding color gradient that distills craftsmanship and uniqueness, and it's available in 7 different colors.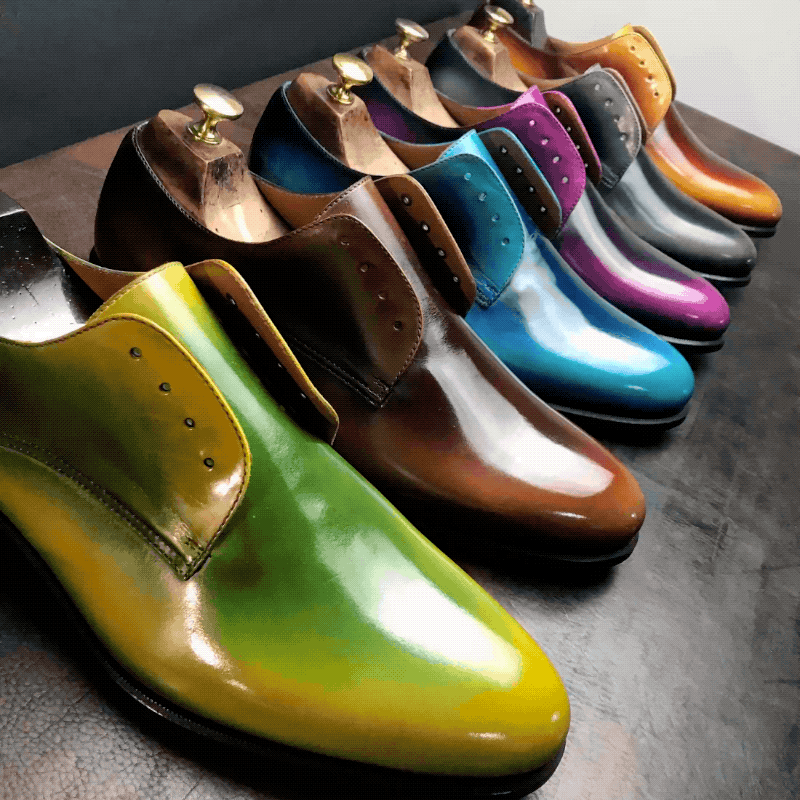 We also have Cezanne Patina only available in the Fast Lane. We have 2 combinations being offered in Terra with color elements of Fire & Earth and Indigo with color elements of Deep Violet and Hue of Blues. 
Behind The Scenes. How It's Done?
Fast Lane stock shoes are all produced equally on our side: Zurigo shoe last (round toe last), with plain unfinished crust leather, and a raw leather sole unit. The result is a fully constructed pair of shoes, with an unfinished upper and sole waiting to be hand-painted.
You can think of Fast Lane as a "turbo-charged" regular MTO order. We stock up on these "unfinished" shoes on a weekly basis for rapid MTO production.
As you might imagine, the design options on these 'Fast Lane' orders are fairly limited compared to the extensive customizing features available for Made-To-Order (Shoe Studio) feature, where the shoes are built from scratch as per your specifications.
On Fast Lane orders, you start off with an already constructed pair of shoes, and the customizing options are limited to the color of the upper (all plain colors and patina textures are available), the color of the sole, and the color of the shoelaces (if present).
Understandably, we can not accommodate any other special designing feature on these orders. For a full customization control and design, options use our SHOE STUDIO feature.
Thank you and Good Luck - Nilesh
Don't wish it was easier, wish you were better - Jim Rohn